Le miel, les produits en cuir de haute qualité, le lait et le fromage, les pois sauvages. Dans le Parc National de Monti Sibillini, membre d'Euromontana, comme dans les autres régions montagneuses à travers l'Europe, les entrepreneurs produisent des aliments de haute qualité et des produits de haute couture. Leur travail favorise la culture locale et le développement économique, et leur permet de produire durablement et localement sur les terres que leurs familles ont parfois occupées pendant des siècles. Tamara Griffiths écrit des articles dans le Huffington Post où elle retrace les activités de ces individus et des entreprises qui fabriquent des produits de montagne traditionnels et actuels. Elle parle des raisons poussant à produire dans le zones de montagne et de comment certaines personnes y parviennent malgré les difficultés. Pour plus d'informations, consultez ses articles récents :
La sensibilité de la nourriture (Food That is Feeling) et Comment le miel italien de montagne est produit (How Italian Mountain Honey is Made): Roberto di Mulo, qui fait du lait et du fromage dans le Parc National de Monti Sibillini, explique que les personnes associent les aliments produits dans les zones de montagne avec la pureté, la santé et la tradition : « Dans une région de montagne comme la nôtre, la nourriture est connectée à la croyance ». Roberto fait en sorte d'obtenir tout son lait des zones de montagne. Quand il est à court de lait, il n'achète pas le lait de la plaine. Sergio Corridoni, qui produit du miel dans les montagnes, refuse également d'importer du miel et frauduleusement l'étiqueter comme « montagne » quand il ne provient pas de la montagne. Pour lire plus, visitez : La sensibilité de la nourriture et Comment le miel italien de montagne est produit.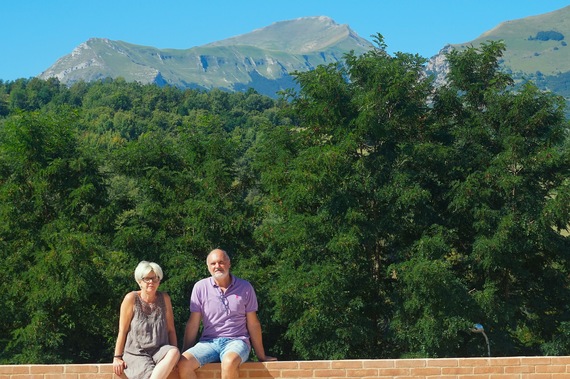 Sandra et Bruno (photo: Tamara Griffiths)
Haute couture dans les montagnes (High Fashion in the Mountains) : Selon les propres mots de Tamara : Sandra et Bruno Treggiari ont une entreprise de produits en cuir. Ils vendent dans toute l'Europe à des clients comme Russell et Bromley au Royaume-Uni. Ils sont basés dans le Parc National de Monti Sibillini. Du point de vue économique conservateur, cela n'a pas de sens de fonder une entreprise de mode et de production dans une zone de montagne. Ils pourraient réduire les coûts, à certains égards, en étant dans les principales zones de production de cuir dans les basses terres, mais leur vision est connectée à la montagne et à leur communauté. Ils accordent une grande valeur à la qualité de vie et la qualité du produit, et leurs produits en sont d'autant plus durables. Pour en savoir plus, veuillez cliquer ici.
Pour lire plus d'articles de Tamara Griffiths sur les produits de montagne, veuillez cliquer ici.
23 août 2016